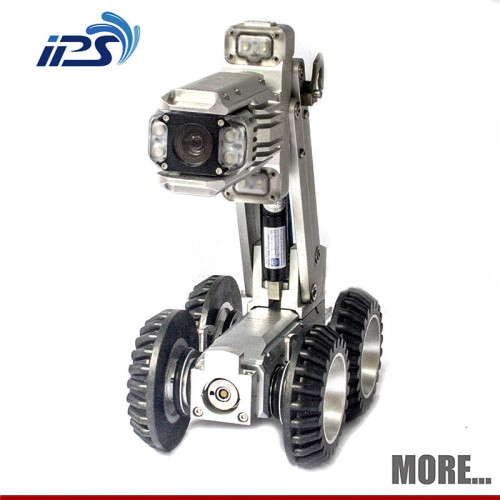 S100 Underwater Sewer Pipe Inspection Camera Robot For DN 100-600 Lateral
Item specifics
Type

Analog Camera, Pipe Inspection Robot
Style

Bullet Camera
Sensor

CCD
Technology

Pan / Tilt / Zoom
Special Features

Waterproof / Weatherproof
Camera Head

50mm Pan&Tilt camera head
Image sensor

1/4 Sony CCD
Camera Horizontal resolution

540 TVL
Monitor

12.1'' touch LCD display
Memory

64G hard disk
Description
This high performance Pipe Inspection Robot can be used to inspection laterals from 100mm to 600mm in diameter.The SD-1050 Camera heads features a 540TVL P/N sensor to capture detailed image of pipe defects,including poor joints,structure fractures,and root intrusions.Inspection videos are transferred from the sensor to the state-of-heart-art monitor via a compact cable drum system.And the data is compressed into H.264 video format,which can be used to generate reports with our integrated reporting software or third party software.The winch will automatically wind up or unwind the cable according to the feedback of a precice tension sensor.And this means the carriage can be easily feed into drainage lines from manhole.

Technical data
Product classification
Pan and tilt Pipe Inspection Robot
Inspection range
approx.DN 200 and up
Dimension
ø 90MM
Weight
approx. 7 kg
Tractor operation
yes
Camera reorient
Yes
Focus
Manual focus
Lighting
14 led lights.
Protection class
IP 68
Permissible ambient temperature
-20 to 55 celsius
Test pressure
10-15PSI
Pressure monitoring
Integrated pressure sensor continuously monitors inner pressure
Panning range
180-degree endless pan
Viewing range
+/-120°
Angle of rotation
Continuous
Sensor (inch)
1/4"
Sonde
no
TV standard
HD
Explosion protection
optional
Image resolution
540TVL
Detail Image:
S100 Pipe Inspection Robot without Camera-lift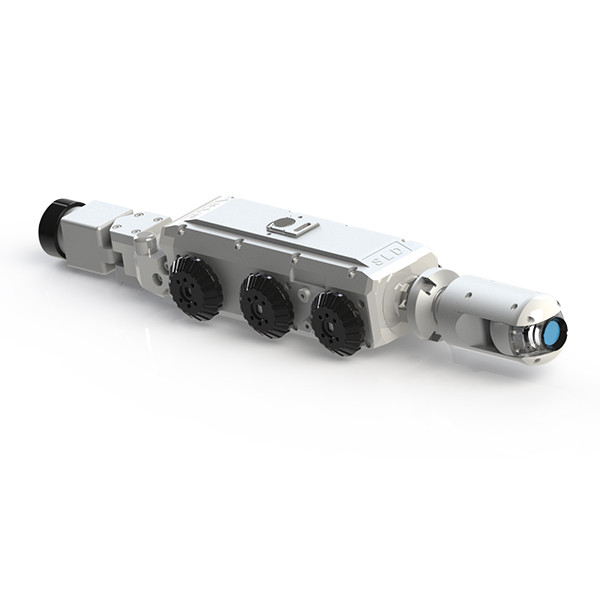 * For pipe DN100-600
* Steerable to climb over obstacles and bend pipes
* Turn Radius:down to 0.0"
* Sensors:pitch, slope, pressure
* Pressure Rating:1 ba
SD-1050 Camera Head With IP68 Waterproof Capacity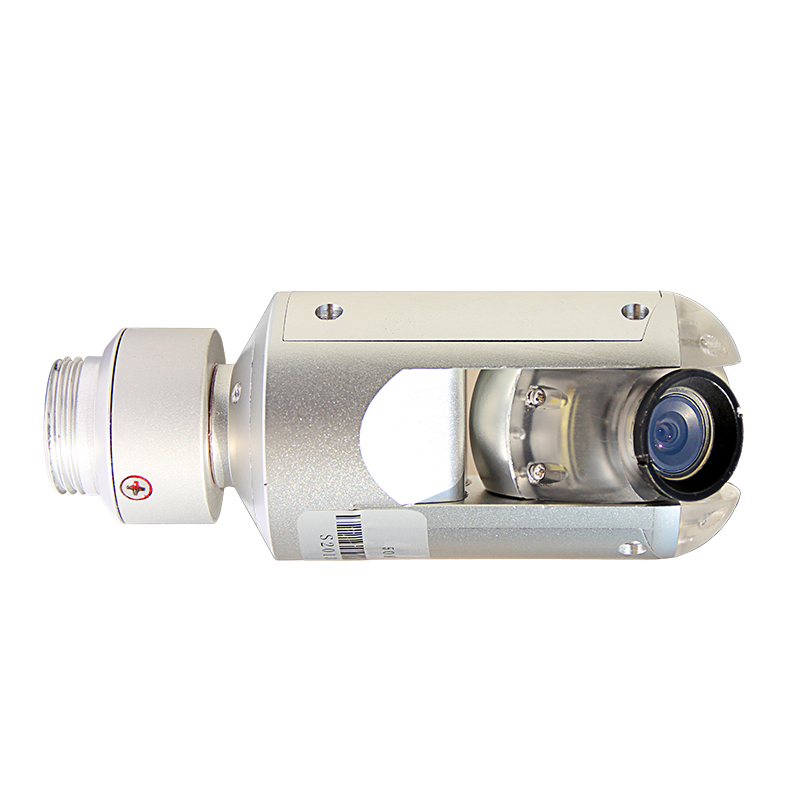 * Camera Sensor:color Sony ¼" CCD
* Resolution:540TVL
* Pressure Rating:1 bar
* Focus:auto shutter; manual focus
* Illumination:controllable shadowless 14 led ring
* Articulation:180-degree tilt; infinite pan
* Sensing:pressure
* Size:diameter: 52mm;length: 123mm
* Weight:1.6 lb (0.5 kg)
* Material:aluminum
Auto/Manual Cable Drum,controlled via wireless Joysticks.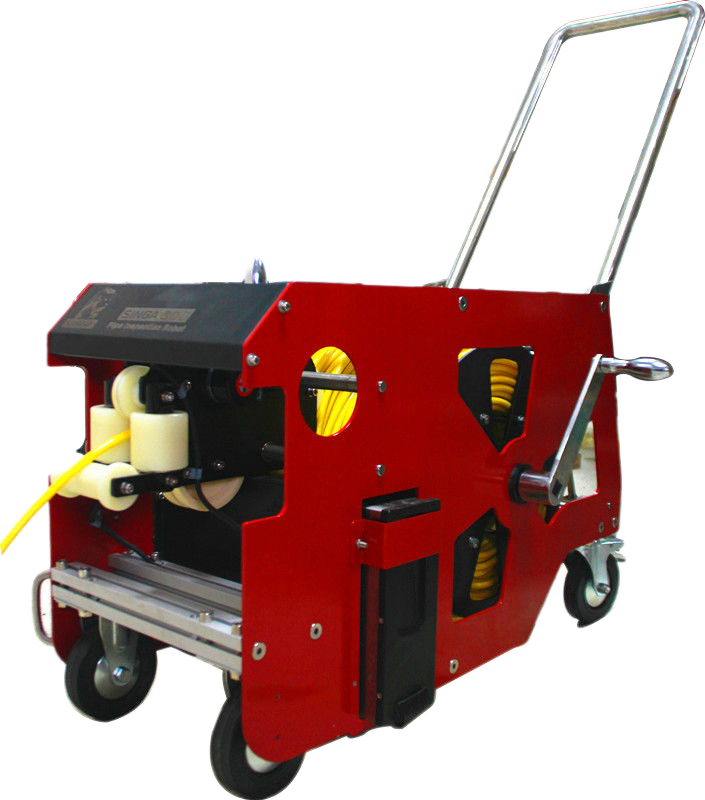 * Optional manual or auto cable winding up component;
* Material: Aviation aluminum+PC plastic
* Meter-counter:Distance constantly displayed on screen;erro<10cm
* Waterproof: IP53;
* Reinforced semi-rigid cable;
* Load capacity:150KG.OD:9mm
* 120m standard cable length(100-300m customizable)
* Size: 70cm*44cm*48cm
* With emergency stop switch

12.1" Sunlight Presentable LCD Touch Monitor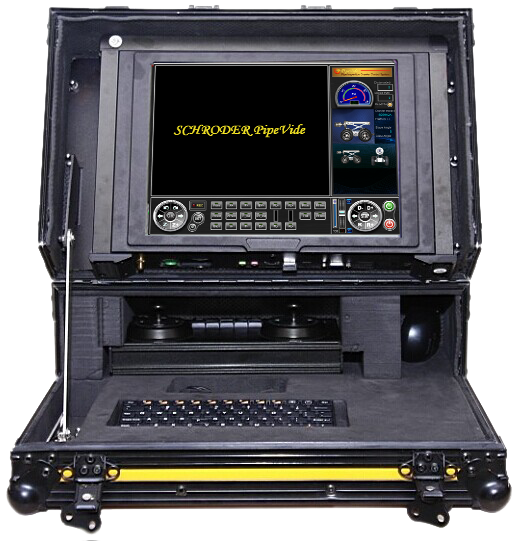 * Record inspections to 64GB SSD
* Water-proof standard:IP53
* All featured software regulates crawler motion, cable reel
winding up
and persistently measures distance ,inner pressure
* Size:L426mm*W266mm*H52mm
IPS was started with a simple goal ,to provide our Chinese customers ,who were engaded in water monitoring and/or municipal sewer line inspection and rehabilitation ,with affordable devices.
* In 2009,we began our business with self-made multi-direction endoscope.But it was not very sucessful at that time.
* In 2013,we came back with SINGA crawlers,which was equipped with powerful illumination to capture and record pipe defects.
* In2015,we added explosion-proof and motor-driven cable drum to our carriage.And setted out to develop our own UV curing,3D sonar/laser system.
Thanks to continuous efforts in customers' oriented technical innovations and excellent service ,IPS has witnessed a series of huge success.Now we are the leading manufacturer of pipeline CCTV inspection equipment in China ,and we are ready to lead international pipe inspection&rehabilitation industry in the future.